Stryx proudly presents a group exhibition by three Quebec based artists Caroline Gagné, Anne-Marie Proulx and Nadia Myre, as part of Quebec City Biennial international exchange.

Exhibition is open to public until 20th December Thursday - Saturday 12pm - 4pm with exception of Friday 6th December when the opening hours will be 6pm - 9pm

Exercising a multidisciplinary practice built on new technologies and poetic contemplations, Caroline Gagné devotes herself to the artistic shaping of invisible phenomena, such as the subtle transformations of matter.


Anne-Marie Proulx is heedful of ancestral knowledge and the symbolic heritage of the Innu people from Pakuashipi, on the Lower North Shore of Quebec.Through prolonged exchanges with the Innu community and photographic explorations of the northern landscape, she seeks to re-establish an emotional connection with the land by conceiving it as a living and communicating whole.


Nadia Myre develops strategies to restore the symbolic power of Indigenous artifacts and know-how. From a critical standpoint, her work underlines the colonialist dynamics inherent in Western modes of cultural dissemination and transmission.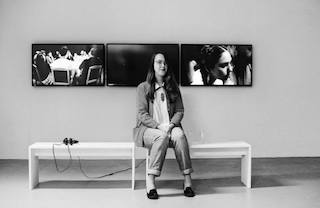 Exhibition is supported by Arts Council England, Conseil des arts et des lettres du Québec (CALQ), Canada Council for the Arts, Entente de Développement Culturel (Ville de Québec), Manif d'art and Ikon Gallery.